Nikos Loukas,
Founder and Owner of
P.G.T. Tour Group
I founded P.G.T. Tour Group which specializes in private tours and private transportation needs.
Private Greece Tours!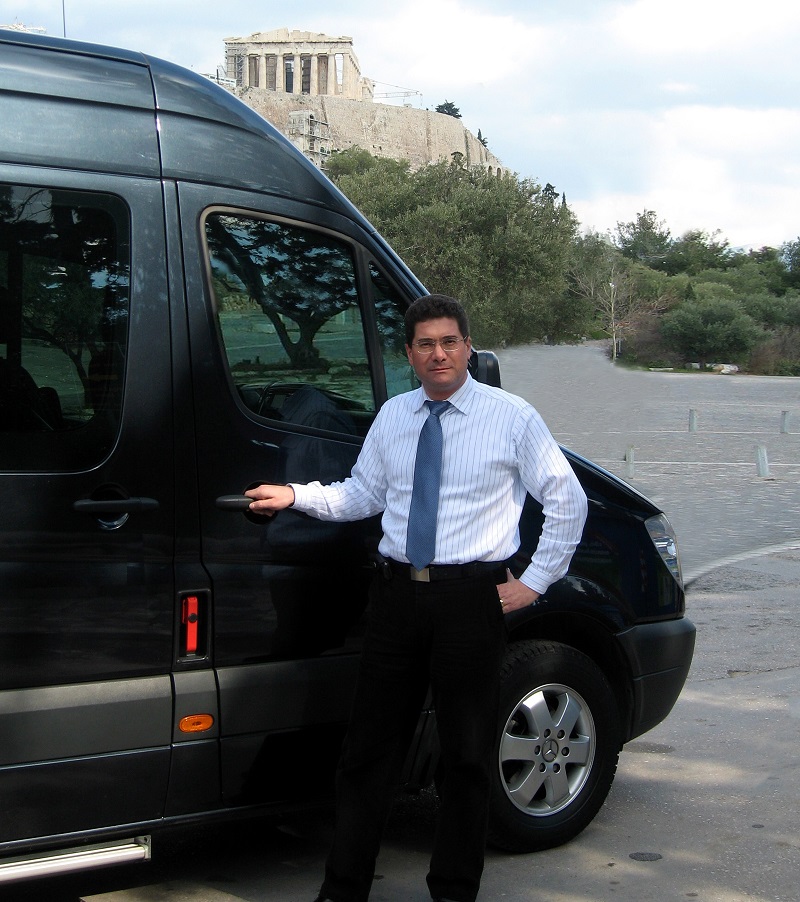 I am Nikos Loukas, founder and owner of P.G.T. Tour Group (Private Greece Tours).
I was born and raised in Athens and came in contact with the tourism industry from a very young age. I was fascinated and immediately decided that this is what I wanted to do professionally. I began by working in the most historical hotel in Athens, the luxurious Hotel Grande Bretagne, where I was employed in various posts. Having gained the respect and trust of the Management of the hotel afterfew years I was offered a choice of positions but decided that I wanted to start my own business.

With the help of my then fiancée (and later my wife), Anna-Marina, who also worked in the tourism industry, I founded P.G.T. Tour Group which specializes in private tours and private transportation needs. I am proud to say that from its "birth" up to today P.G.T. Tour Group has been uninterruptedly operating with great success.
---
Classical Private Tours
Perfect way to explore Greece! Set your own pace and avoid tiring big groups and stressful crowds.
Specialized Private Tours
For those of you who want to experience something outside the box! Specialized tours for visitors with special interests.
Private Shore Excursions
Are you visiting on a cruise ship? See as much as possible during your limited time frame. Enjoy your tour in privacy and comfort.
---
Being a professional driver myself I carefully selected the best professional drivers and professional licensed guides for my team. All our drivers are certified by the Greek State Authorities and well trained in safe driving. Our fleet consists of various Mercedes Benz vehicles all of which are fully insured, certified and again authorized by the Greek State Authorities.
Anna-Marina and I are confident that we can satisfy your every personal request and travel need. Our experience, impeccable reputation and high professional standards.
So, if you want to break free from big tour groups and believe that you deserve the best for your vacation… then P.G.T. Tour Group is the best choice for you!
For any questions, information or travel advice please check our menu categories: Private Tours – Transfers – Useful Info – Terms & Conditions please feel free to Contact us. Anna-Marina and I will be happy to help you in planning an unforgettable visit.
---
We look forward to welcoming you in Athens!
Nikos & Anna-Marina
---
Testimonials
We were thrilled with our tour – it was absolutely perfect and we loved Billy!! We could not have had a better tour, driver and the van was spotless. It was one of our favourite days of our trip – so glad we booked through you. I have recommended you to my best friends who are heading to Athens this summer. Best regards
– Janet Gaber
We really had a wonderful time and had a lot of positive comments after our tour with you. I can't think of any suggestions for improvements. The van was wonderful and clean and our driver were very professional and friendly. We would recommend you to others without hesitation
– Lori Lee
Thank you for 5 wonderful days of sightseeing in the Peloponnese. We had a great time & will always have fond memories of you, your car, your history lessons & Greece.
– Bonnie & Ellen
Just wanted to say how much we all enjoyed our full day tour of Athens with you. You are so knowledgeable and accommodating! We all have a new appreciation for the beauty of Athens.
– Cynthia
---