Testimonials
---
Written
---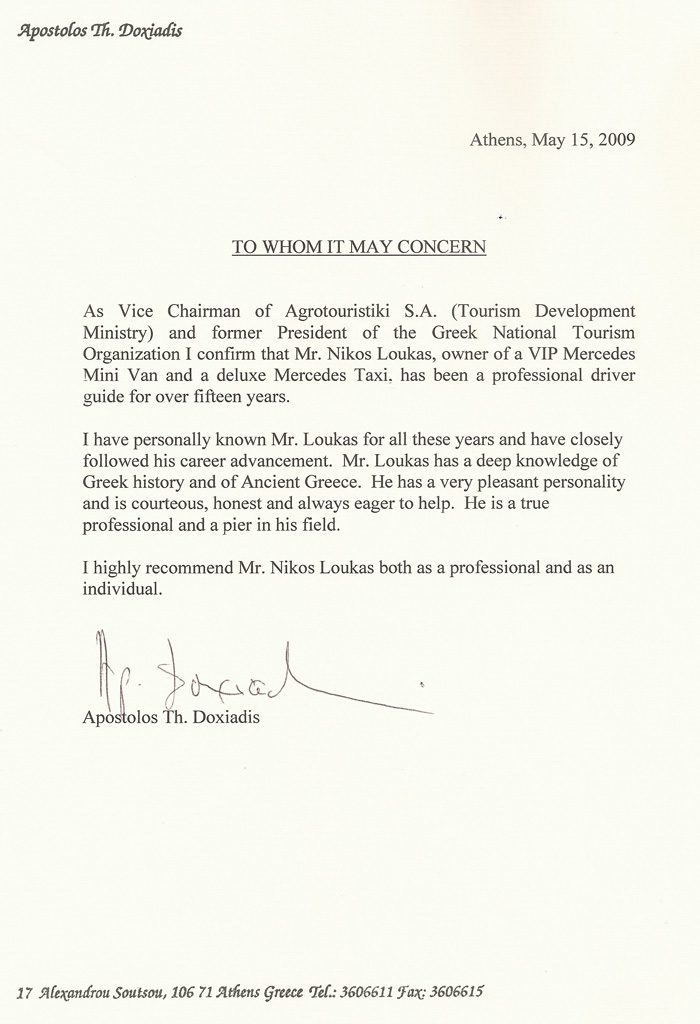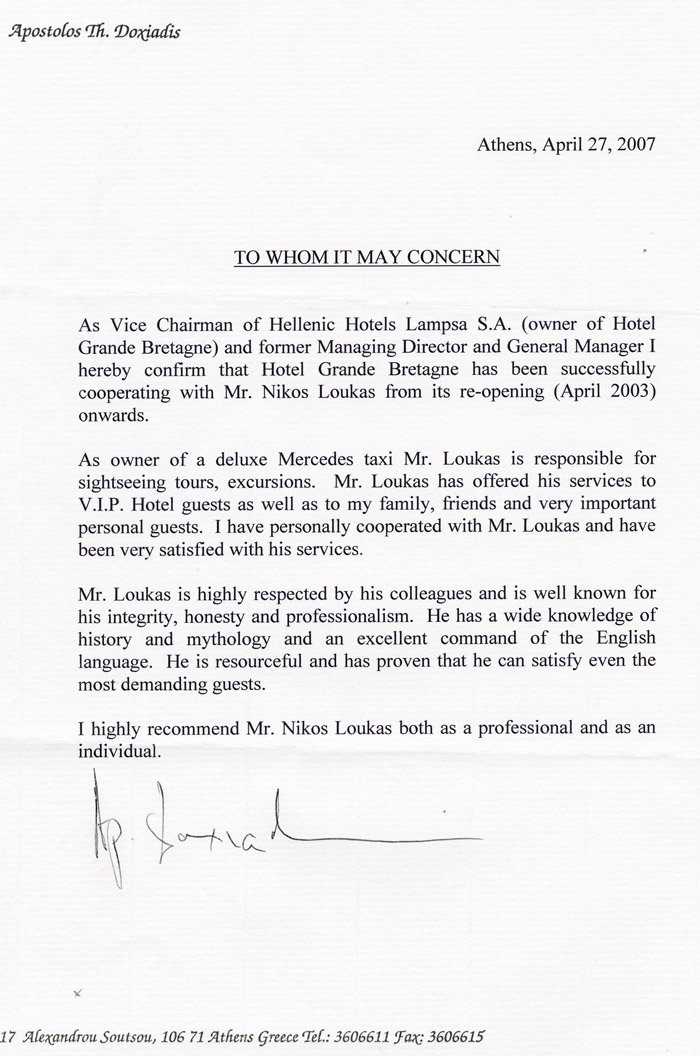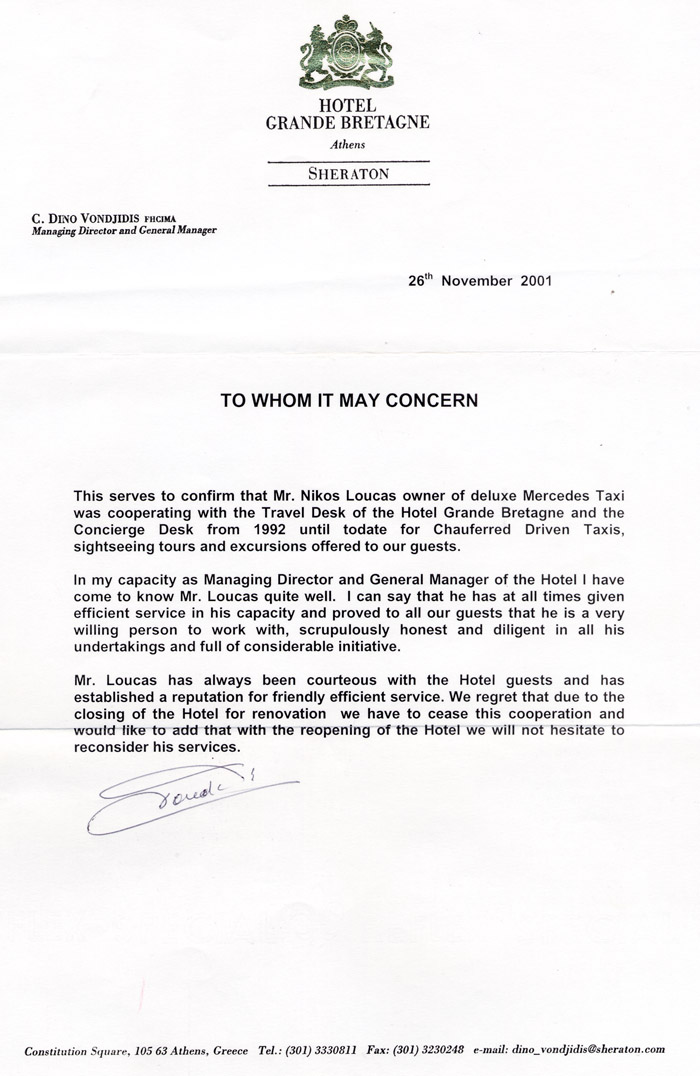 ---
Clients
---
Dear Nikos,
Sorry for the delay in getting back with you but we were in California with our children for a month… Your quick and informative e-mail replies were one of the things that definitely attracted us to your service. Your personal appearance and immaculate car confirmed our choice, and the tour itself was informative and fun, and we thank you for the wonderful insight into your beautiful Athens. Although we can't make any recommendations for changes we can only point out what first attracted us to you-your very professional website. It was important that you mentioned your affiliation with the hospitality industry, which sets you apart from the other tour guides. Feel free to contact us at any time, to use us as a recommendation or for further comments. Thank you again for making our day a memorable one.
Best wishes to you for a Happy, Healthy, and Prosperous New Year.
Ed and Ilene Gold
Kalimera,
it's COLD here. how about you? Happy to tell you that our driver-guide Billy was excellent. very good English. we were very happy that he took us to the Changing of the Guard, we loved the dogs leading the parade. Acropolis museum was very crowded. of course, it was a Sunday. the tour was great. I think this only happened in Turkey, you know those Turkish rug merchants (smile) and not in Athens. we did not like that our driver-guide in Turkey took us to a rug store where they tried hard to sell rugs to us. My recall is that that did not happen with Billy. All in all, very pleased.
My best wishes to you for peace, health, and happiness.
Joe and Nancy Jerardi,
Nikos,
We had a wonderful day in Cape Sounion and in Athens. We really appreciated your services and our ability to customize the day.I cannot think of one thing to improve and would highly recommend you to others.We have great memories of our day in Athens and hope to return and see more of your beautiful country in the future.Suzanne MacMillan and family.
Just a quick note to let you know that everybody in our group enjoyed your tour. We had a wonderful time there. Many thanks. I will definitely contact you when we are visiting again.
Happy New Year!!!
Dora Hu
Dear Nikos,
I just thought I would drop you a line to say thank you for the fantastic tour we enjoyed with Manos on September 15th. He was brilliant with a great wealth of knowledge and we all thoroughly enjoyed our day. We will not hesitate to recommend your company if any of our friends are in your part of the world on their travels.
Thank you once again,
Janette Tully
Hello!
Now we are back in Norway, today the temperature is below zero…we are freezing. I read about your election in the newspaper today, another Papandreou in charge , as you told us would happen!I will thank you for our great tour in Athens, we are all very satisfied.I have plans taking my parents to Athens, maybe in April 2010, and I will for sure contact you again!
Best regards,
Tone Hals
Nick,
we would like to thank you once again for a great and memorable tour. We will definitely post some comments on the internet and will surely contact you the next time we are in Athens.
Thanks again for a nice experience.
Pepe Olvera
Greetings from Waterloo, Ontario, Canada!
I'm afraid I have nothing but positive things to say about your services. Some things that come to mind are:very professional, good clear website, good value for the pricekept us organized – got us to the 2 busiest sights at just the right time (Acropolis and New Acropolis Museum)knowledge of Greek history & mythology very goodinformative, friendly, nice clean vehicle We all enjoyed the tour. I would gladly recommend your services.
All the best!
Linda Gambell
Dear Nikos,
I asked the entire family for suggestions for you. Their reply was "it was perfect, why would he change anything?" And so I let you know this. My 3 children, my husband, and I all enjoyed our trip with you to Poseidon's Temple and then back to Athens where we learned so much from you about the city and even some Greek mythology which we all found to be very interesting.
We would and have highly recommend your services to everyone.
Rosemarie Sweetwood
Larry and Barbara Alderink, Saline, Michigan
Dear Nikos,
We can't thank you enough. We arrived home yesterday after a very brief trip to Greece. We had arranged a full day trip to Corinth, Myceneae, Naphlion, and Epidavros as well as a return airport transfer. It was a pleasure being with you a wonderful person and a great guide! We have never enjoyed sightseeing as much as we did with you. We are pretty well-traveled, but this was the experience of a lifetime! No tour buses to board. No waiting for the inevitable person who is late because he knows you won't go anywhere without him. For the four of us, this day trip was actually less expensive than buying a bus tour. The airport transfer was probably a little more, but we had a very early departure and no worries about whether or not someone was going to show up. We have never met a more courteous, kinder, more friendlier person than you. Also, what a sense of humor!The Athens Metro was the cleanest, safest, and easiest to use of any public transportation system we have encountered anywhere in the worlds. And what a bargain!Do you notice a lot of superlatives in this message? We can't say enough good things about this experience. Our sincere thanks for all of the good advice. We hope to return to Greece when we have more time and we will certainly use your services.
Best regards.
Dennis and Candace Snyder, Howell, Michigan
Larry and Barbara Alderink, Saline, Michigan
Nikos,
We were thrilled with our tour – it was absolutely perfect and we loved Billy!! We could not have had a better tour, driver and the van was spotless. It was one of our favourite days of our trip – so glad we booked through you. I have recommended you to my best friends who are heading to Athens this summer. Best regards, Janet Gaber (
---
Trip Advisor
---
I was with a group of 7 ladies who arrived in Athens a day earlier than a cruise that we were taking. I contacted Nikos at Private Greece Tours... read more and he put together a tour, including driver and guide, to take us to all of the highlights of Athens. It was incredible from start to finish! We were picked up from our hotel, including luggage, and taken to all of the sites over a 6 hour period. The driver and ladies bantered during our changes of locations and he was quite entertained. Our guide was extremely knowledgeable and gave us all of the time we needed at each stop. We were then taken to the port to start our cruise. This is the way to go! The price was reasonable and the experience was incredible! We couldn't have done it without the help of Private Greece Tours. Thank you Nikos!!!

Rita L


01/09/2021

I wish we had found them sooner!!! We had such a lovely day with Elias and the owner Nikos was very helpful and very prompt getting back to our request.... read more Elias was very informative and recommended a wonderful restaurant for lunch - by the sea with delicious food!! Highly recommend this tour company and would definitely use them again!! …

sally-sparkle-flower


04/08/2021

5 excellent. Nikos answered my emails right away. Was always polite and professional. The tour was the best ever. Since I was 70 years it was nice being picked... read more up and dropped off. George our driver and tour guide was amazing. So polite and professional. Always pleasant and went way beyond the call of duty. We were on the road with George for 6 days and his knowledge of history and interesting insights as well as of waterfalls and eating places was always helpful. He was a careful driver too. Our accommodations were very good and very clean. Excellent over all! Tom and Deb Sutter USA

thomas sutter


01/01/1970

Nikos runs a fantastic organization. First of all, he was a great communicator and did not hesitate to make suggestions and to work with us as we customized most of... read more our tours. We took 4 day long tours with his organization over 10 days across the Greek mainland. Nikos then set us up a last minute 5th custom tour with another fantastic driver. I wish I could remember his name as he deserved a shout out as well for his care of us on a tour to Poseidon's temple. Nikos pared us with George for our original 4 day tours as our driver and guide. 3 were out of the western Greece area and the 4th tour out of Athens to Delphi. 2 of the tours were completely unique to our needs and George did not miss a beat. Great driving, excellent care of our group, the best communication we could ask for, very accommodating while still keeping us on track. Not only was our driver/guide George great, but the private site guides that Nikos arranged were also top notch! Personable, knowledgeable and all spoke good English. …

JrVandy


11/07/2021

My husband and I booked a tour to Delphi and a tour to Sounion after exchanging a few emails with Nikos Loukas (Private Greece Tours).Our driver provided us with excellent... read more service and we thoroughly enjoyed both tours. We felt very safe as the vehicle was sanitized after each stop and disinfectant was available at all times.

363emiliar


01/10/2020
---