Testimonials
---
Written
---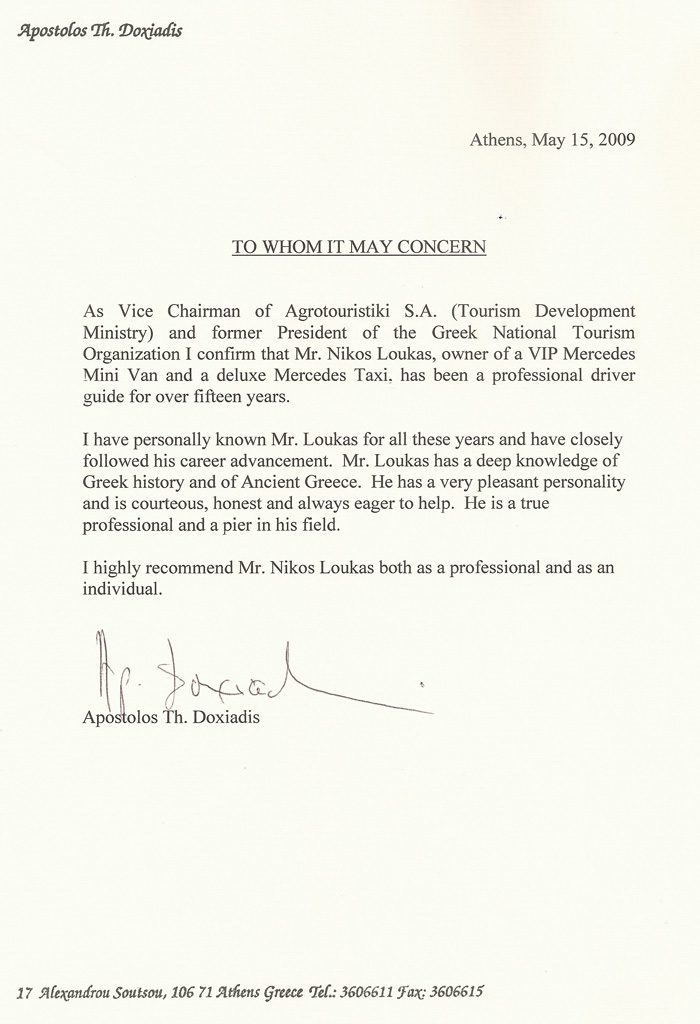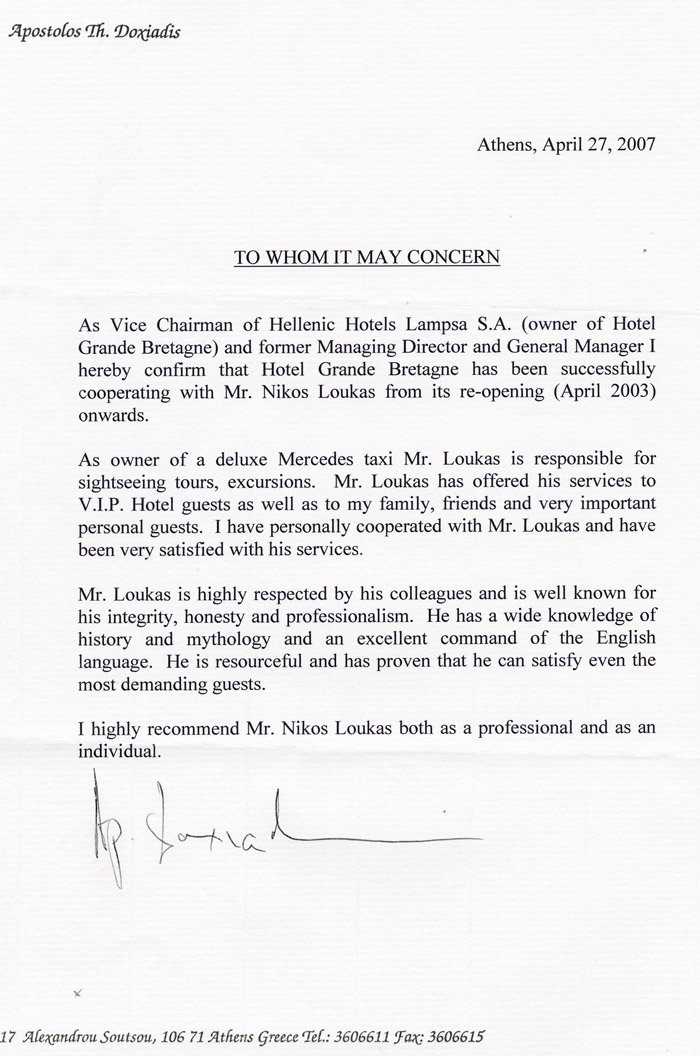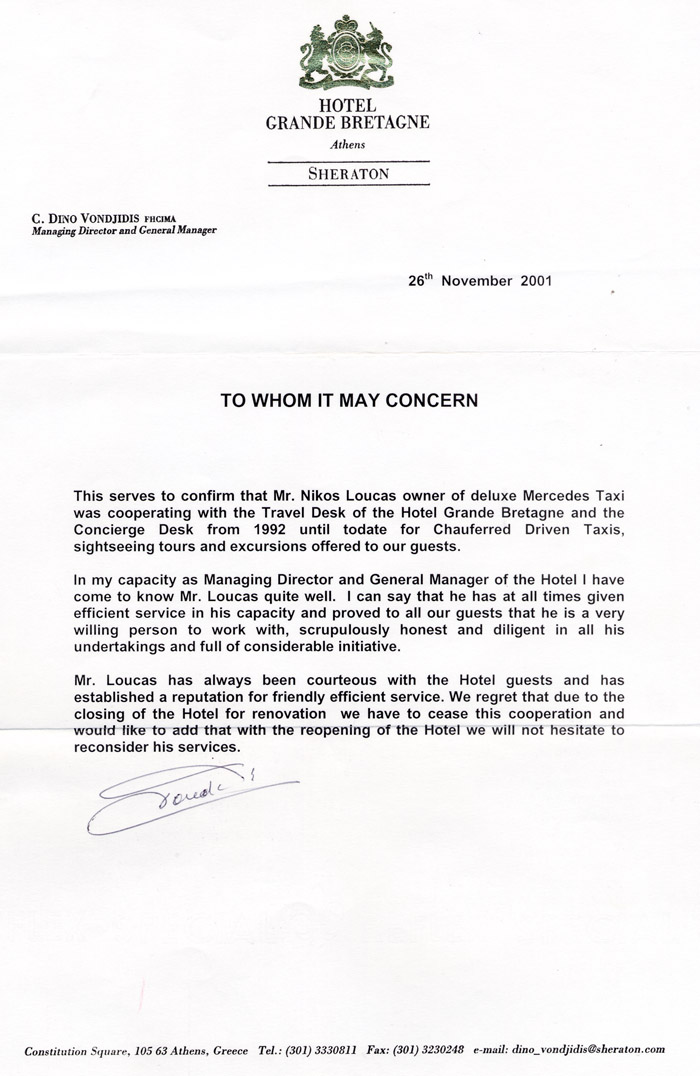 ---
Clients
---
Larry and Barbara Alderink, Saline, Michigan
Dear Nikos,
We can't thank you enough. We arrived home yesterday after a very brief trip to Greece. We had arranged a full day trip to Corinth, Myceneae, Naphlion, and Epidavros as well as a return airport transfer. It was a pleasure being with you a wonderful person and a great guide! We have never enjoyed sightseeing as much as we did with you. We are pretty well-traveled, but this was the experience of a lifetime! No tour buses to board. No waiting for the inevitable person who is late because he knows you won't go anywhere without him. For the four of us, this day trip was actually less expensive than buying a bus tour. The airport transfer was probably a little more, but we had a very early departure and no worries about whether or not someone was going to show up. We have never met a more courteous, kinder, more friendlier person than you. Also, what a sense of humor!The Athens Metro was the cleanest, safest, and easiest to use of any public transportation system we have encountered anywhere in the worlds. And what a bargain!Do you notice a lot of superlatives in this message? We can't say enough good things about this experience. Our sincere thanks for all of the good advice. We hope to return to Greece when we have more time and we will certainly use your services.
Best regards.
Dennis and Candace Snyder, Howell, Michigan
Larry and Barbara Alderink, Saline, Michigan
Dear Nikos,
I just wanted to take this opportunity to send you a quick thank you.As we had pre arranged you met us at the agreed time at our hotel. I was pleasantly surprised that although a native Athenian you speak excellent English. Your knowledge of the city and surround area is superb!!You provided us with excellent information about the sites we were touring and never made us feel rushed. While we saw quite a bit in one day, we never felt that we were shortchanged in the amount of time we spent at each site. It was clear we could take as much time as we wanted, we knew that you would be waiting for us when we were ready to move on.You were articulate, interesting and smart enough to know when no commentary was necessary-allowing us to simply absorb the beauty and culture that is Greece. You made our day one of the most enjoyable ever. We were extremely please to find you. We will highly recommend you to anyone looking for a fabulous sightseeing adventure in Athens and surround. Should our travels take us back to Athens we will happily use you again!
Sincerely yours,
Jerry & Kerry Park
Simi Valley, CA
Nikos,
We were thrilled with our tour – it was absolutely perfect and we loved Billy!! We could not have had a better tour, driver and the van was spotless. It was one of our favourite days of our trip – so glad we booked through you. I have recommended you to my best friends who are heading to Athens this summer. Best regards, Janet Gaber (
Greetings from Waterloo, Ontario, Canada!
I'm afraid I have nothing but positive things to say about your services. Some things that come to mind are:very professional, good clear website, good value for the pricekept us organized – got us to the 2 busiest sights at just the right time (Acropolis and New Acropolis Museum)knowledge of Greek history & mythology very goodinformative, friendly, nice clean vehicle We all enjoyed the tour. I would gladly recommend your services.
All the best!
Linda Gambell
Nick,
we would like to thank you once again for a great and memorable tour. We will definitely post some comments on the internet and will surely contact you the next time we are in Athens.
Thanks again for a nice experience.
Pepe Olvera
Nikos,
We had a wonderful day in Cape Sounion and in Athens. We really appreciated your services and our ability to customize the day.I cannot think of one thing to improve and would highly recommend you to others.We have great memories of our day in Athens and hope to return and see more of your beautiful country in the future.Suzanne MacMillan and family.
Just a quick note to let you know that everybody in our group enjoyed your tour. We had a wonderful time there. Many thanks. I will definitely contact you when we are visiting again.
Happy New Year!!!
Dora Hu
Dear Nikos,
I asked the entire family for suggestions for you. Their reply was "it was perfect, why would he change anything?" And so I let you know this. My 3 children, my husband, and I all enjoyed our trip with you to Poseidon's Temple and then back to Athens where we learned so much from you about the city and even some Greek mythology which we all found to be very interesting.
We would and have highly recommend your services to everyone.
Rosemarie Sweetwood
Dear Nikos,
It seems a long time since we were in Athens in the sunshine.Your Taxi service was excellent , Spyros was on time and entertaining on the journey to the airportI would have no problem recommending your services to other peopleHope you have a Merry Christmas & a Happy New year.
Regards,
Mr. Barry Luke
Dear Nikos,
I just thought I would drop you a line to say thank you for the fantastic tour we enjoyed with Manos on September 15th. He was brilliant with a great wealth of knowledge and we all thoroughly enjoyed our day. We will not hesitate to recommend your company if any of our friends are in your part of the world on their travels.
Thank you once again,
Janette Tully
Dear Nikos,
Sorry for the delay in getting back with you but we were in California with our children for a month… Your quick and informative e-mail replies were one of the things that definitely attracted us to your service. Your personal appearance and immaculate car confirmed our choice, and the tour itself was informative and fun, and we thank you for the wonderful insight into your beautiful Athens. Although we can't make any recommendations for changes we can only point out what first attracted us to you-your very professional website. It was important that you mentioned your affiliation with the hospitality industry, which sets you apart from the other tour guides. Feel free to contact us at any time, to use us as a recommendation or for further comments. Thank you again for making our day a memorable one.
Best wishes to you for a Happy, Healthy, and Prosperous New Year.
Ed and Ilene Gold
---
Trip Advisor
---
Dominic our driver was very warm, hospitable and knowledgeable. He was very informative about each of the sites we visited and was great with getting our kids interested about... read more the history which is no easy task 🙂 He went out of his way to show us a few places near our hotel where we could visit on our own time which was very nice. Katerina our guide at the Acropolis was incredibly knowledgeable about the archaeological sites. I couldn't believe how well she knew all the facts and figures! My only advice for Katerina would be a bit more focus on how the history has had an impact our modern society with examples perhaps than so much on details and facts but this is a nitpicky thing. She was a fabulous guide. …

Nicole D


23/07/2021

Our family (3 kids ages 7,9,12 + 2 adults) had a perfect experience with Private Greece Tours. They took us from Athens to Delphi and toured Meteora and then the... read more Athens airport. George was the most friendly, accommodating and wonderful driver, and everything was super smooth. The van was super nice, clean and safe, and George was above and beyond. Would use them again in a second.

Mbirnhol


28/11/2022
---
Coming for the first time in Athens I was mesmerized of everything around me and thanks to George our fantastic English speaker driver I left Greece richer in knowledge and... read more with a treasure of memories that I will always remember. The whole experience was so relaxing and educative, it's clearly that George loves Greece and it's fantastic history, his sense of humor really sparked and me and my partner are so grateful for all the additional recommendations that he took his time to share with us after the tour. I recommend Nikos' business for a remarkable experience in Greece.

327andreead


12/02/2023

Our families of 4 adults and 6 boys ages 8-14 had an amazing day with Dominik. He was very knowledgeable, kind, and funny. He kept everyone engaged and we felt... read more very safe with his driving.

Melissa B


01/01/1970
---