Testimonials
---
Written
---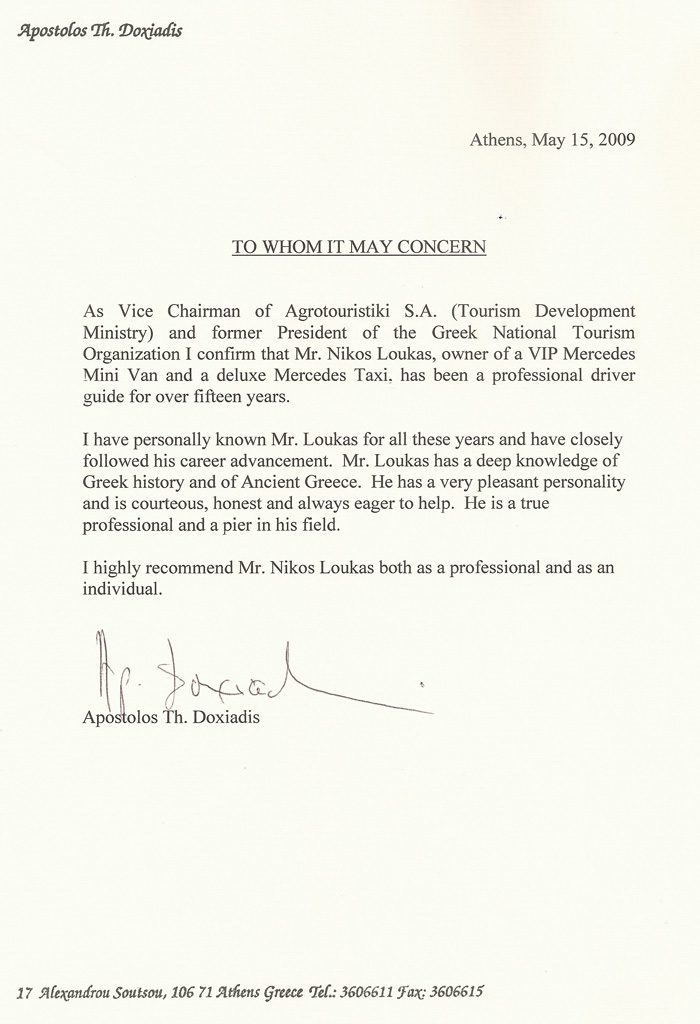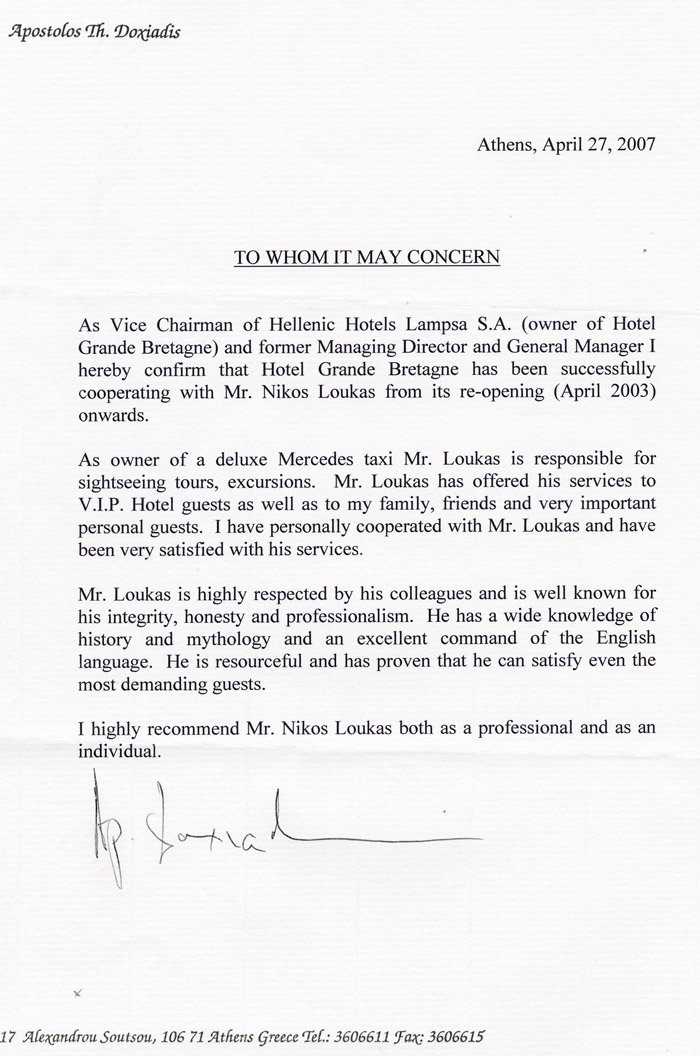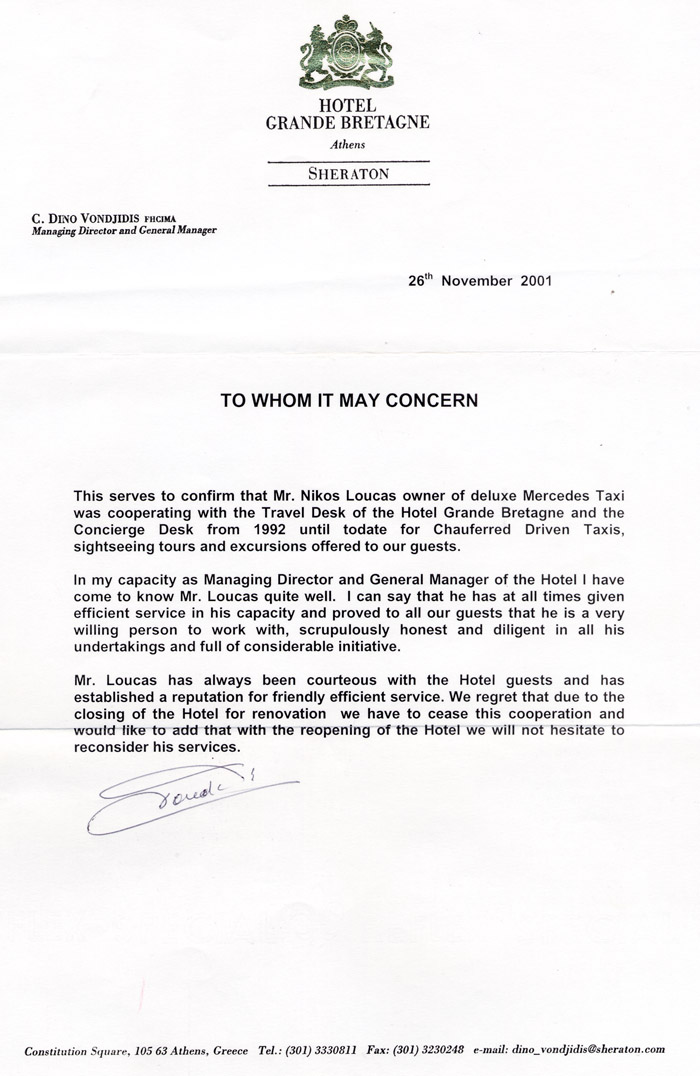 ---
Clients
---
Dear Nikos,
We were so very pleased with our day in Athens that it is very difficult to think of any way your service could be improved. We wanted to visit certain sites, and we did, with a few more included, George took us around in such a way that we totally avoided crowds, he was very pleasant and extremely informative about everything – history, culture, food, whatever we wanted to talk about – and I bet he would be a lot of fun to just spend time with. The van we used was clean, the air-conditioning worked very well, and we appreciated that George did not have to stop for gas on our time. Visibility was great from the van, nice big windows for each of us! We had asked to have lunch at a local restaurant, (taverna?), instead of a tourist or cruise tour stop, and we ate at a wonderful place right on the water, near Cape Sounion. We are a typical suburban American family, but we were all willing to try some new things, and George helped us order a delicious meal. The weather was even wonderful – not too hot, enough of a breeze to keep the air moving. The only glitch we had came at the end of the day, and that was totally my fault. I had completely forgotten we needed to visit an ATM to obtain Euros to pay for the tour. It was no problem to find an ATM right by the port and George was very helpful to my husband who was having some difficulty getting the ATM to work properly. Our day was just about perfect. We were also impressed by your website, and I must add that I was very pleased with your quick responses to all of my inquiries about the trip. My husband & I hope to return to Athens and Greece, and you can be sure you will hear from us when we do. And I will continue to recommend your services on Cruise Critic, and other travel sites I may use.
Sincerely,
Laura MattinglyFairfax Station, Virginia, USA
Hello Nikos,
We had a wonderful day with Steven. He was one of the best driver/guides we have ever had in five previous trips to Europe. He managed to deliver us to the top of the Acropolis and his commentary along the way was outstanding. He even took us to some unscheduled stops that were much appreciated.
Thank you once again for a great day out in Athens.
I would be happy to recommend your services to anyone contemplating a similar tour.
Regards,
Charles Sanders
Hello Nikos,
Thank you again for accommodating us for a tour today. Dimitri was wonderful and we had a great time.
We will definitely be recommending your services to others.
Kind Regards,
Carianne Visi
Hi Nikos
You are right about the time passing so quickly, and now we are back at work. Still, we have lovely memories and sometime soon I will print off some lovely photos too!!!
The tour with Lambros was very good. He is a relaxed driver, very courteous and with enough information about the locations we visited. It was lovely to walk out of the port, with your detailed instructions in my hand, and there was Lambros waiting. We were thrilled to see the Acropolis before the tour buses arrived and before it was too hot, and later the Temple of Zeus. Also we liked seeing the city from Lycabettus Hill and another highlight was seeing the Changing of the Guard. However, I hadn't done much homework on Athens before getting there and we didn't have a great deal of interest in some of the other buildings and streets Lambros was showing us. I would have enjoyed it if we had visited the Roman Forum, (we did stop for a quick look from above) and a stroll into the Plaka would have been nice but I suppose that is also partly my fault for only taking a half day tour. We probably should have taken the day tour and had a stop to rest and eat, but we hadn't travelled too much before this trip.Thank you Nikos, and Lambros too, for a pleasant experience of Athens!
Rachel & Ralph Palmieri
Nikos,
I apologize for not following up in a timely manner after our trip; I have been busy relocating to a new city to begin my graduate study. Then, in my few spare moments, I been working on 2500 photos from our trip! In short, we had an amazing time with both Elias and Debby.
Elias was safe, courteous, funny, informative, and very accommodating. He made us feel very comfortable from the moment we met him. We enjoyed our stop at Cape Sounion, which was a beautiful, relaxed way to begin a Greek vacation instead of heading straight into Athens! (Thank you again for that recommendation.)
Most notably, I must tell you that Elias went beyond his role as our driver when he did research based on a unique request of ours. He located the only remaining Harley-Davidson Motorcycle Shop in Athens so we could get the ONE souvenir for my father that we were sure he would like. After finding its location and hours, Elias made sure we made it to the store on the way to Pireaus.
We would never have gotten there on our own, and it meant a lot to my Dad that we went out of our way to get his gift. Thank you, Elias!
NEXT – Debby.
Debby was incredible. I speak of Debby often when telling people about our trip. Debby's depth of knowledge – combined with her warm, genuine personality – made our day in Athens unforgettable. Her perspectives on modern Greece were just as compelling as the history she conveyed. Also, her information was extremely easy to follow because she speaks in perfect English; in fact, we thought she WAS English until she mentioned being born in Pireaus!
It is clear that she continually updates her education, and her enthusiasm for the information was infectious! Ancient Greece and Greek Theatre are subjects that I study and love, so talking to someone with her level of knowledge was thrilling.
For my mother, who hasn't studied Greek history, Debby made her experience of the Acropolis so much richer than it would have been had we seen the sites alone. It was like walking the Acropolis with our very own Discovery Channel host!
Finally, would it be possible for you to send my thanks to both Elias and Debby? Please forward this website to them: http://holylands2010.xxxxxxxxx They can view my photos. They each appear in several shots!
Thank you for your part in our vacation. Your company delivered everything promised. I recommend your company to everyone who asks, and I will continue to post favourable reviews on the Cruise Critic message board where I did research for most of our independent tours.
Please let me know if there is anything else I can answer for you. I hope your summer went well.
Best wishes and continued thanks,
Katie & Kim Cowan
Thought we would, now that we are back home and going through our photos etc, let you know how much we enjoyed our day in Athens and the skill, kindness and professionalism of Alex who made the day for us. Your call to us Nikos to ask after us was a nice touch and appreciated. We will promote your services as we can. I (Bob) am a semi-retired tour operator and know a little about the industry so appreciate how you operate.
Once again thanks!!
Bob & Lois Crowley
Myriam, Henrietta, and Claudine (Murat)
Yassou Nikos, Ti Kanis? It is good to hear from you. Henrietta, Claudine, and I only have positive feedback about our experience. You did a wonderful job with our Athens tour; we were able to see a lot and you were GREAT! Great guide, great sights seen, and great history. You definitely had a lot of knowledge with all the English words that are of Greek origin and about all the sights.
Also, the non-touristy cafe you took us to eat was delicious. Efharisto Poli!! Kind regards,Myriam, Henrietta, and Claudine (Murat)
P.S. I've attached the photo we took at the end of our fabulous day.
Hi Nikos,
Sorry for the delay in my response.
The tour of Athens was fabulous and everyone in my party of 9 agreed it was one of the highlights of our trip! Our guide was great, very knowledgeable and accommodating. We were able to customize the itinerary slightly once we started the tour, which I appreciated since we only had one day to see so many sights and experience the city.
I also really appreciate how easy the booking process was and how quickly you responded to my emails. I will definitely recommend you to anyone who is travelling to Greece!
Thanks again!
Suzanne Wagner
Hello Nikos, Please convey our thanks to Makis for giving us a memorable day in Athens on August 31. He was super! We had no need for a licensed guide–he did such a good job..We appreciated his personal touches–even taking my husband, Pete, into a pharmacy and helping him select a good brace for his knee. We all think he is a wonderful ambassador for your city and learned a lot about both your history and present day affairs.
Is it ok if I share your website with our travel agent? She knows how impressed we were with your efficiency and our tour and wants to add you to her data base for future clients.
Carolyn Nicolin
The Nicolin Family
Our tour of Athens was great! The guide, Steve, was very informative, spoke clearly and showed us the main sights plus some others that we hadn't seen before.
Very professional and courteous. We highly recommend your company.
Thank you, Annette Silver
---
Trip Advisor
---
I had a very brief trip to Athens - just 1.5 days, of which one was New Year's Day (everything closed!). Private Greece Tours took on the challenge, with George... read more picking me up from the airport - in perhaps the biggest vehicle ever for a solo traveller - and making sure I saw what I needed to see in the half day. This was coupled with great explanations of the history and culture, including using pictures to explain things.

Icing on the cake was advice from George on how to make the most of the time I had - how to see in the new year, places to walk to, and advice on safety. George, I'd love to be able to thank you in person, but hope you see this - yes, I saw the fireworks from the Acropolis, and went to Syntagma Square. The following day I walked all over the areas you suggested and then some (28000 steps!) - your advice was fabulous and so appreciated.

After the tour, I was dropped to my hotel. As well as appreciating the great tour and advice, I welcomed the flexibility that allowed me to make the most of this precious half day.

Thoroughly recommended!

Cantthinkofanamenow


12/01/2023

Had a wonderful tour from Athens to Delphi with our guide Sakis. Picked us up on time and vehicle was spotless and extremely comfortable. Sakis was extremely knowledgeable in Greek... read more history, both Ancient and Modern. Happy to accomodate our needs including a morning coffee stop and great venue choice for lunch with spectacular views. Lots of laughs throughout the day and Sakis and Nikos Loukas tours have given us a fabulous memory. Couldn't have asked for better. Thank you.

Genevieve B


01/10/2022
---
We did 2 Tours ( Athens & Sunion and 2 day your to Dephi & Meteora) with the company. George was not only driving us for the tour but was... read more very well versed with the history of each spot. He shared a lot of stories, legends and history about the Greek culture. We couldn't have had it any better. Thank you, George for making our trip a memorable one.

Archana B


01/05/2022

We booked a half-day private tour to Corinth during our stay in Athens. Nikos was very easy to work with, quick to respond, and allowed to customize our tour as... read more we wanted. Our driver was Spyros, and he was amazing. He arrived to pick us up early, was very professional, and so knowledgeable about Greece's long history. He made it clear that this was our tour and we could see what we wanted, when we wanted. I would highly recommend Nikos, Spyors and the Private Greece Tours team to anyone looking for a personalized tour, and would love to use them again the next time we are in Greece. Thank you, Nikos!

Patrick


01/09/2021
---